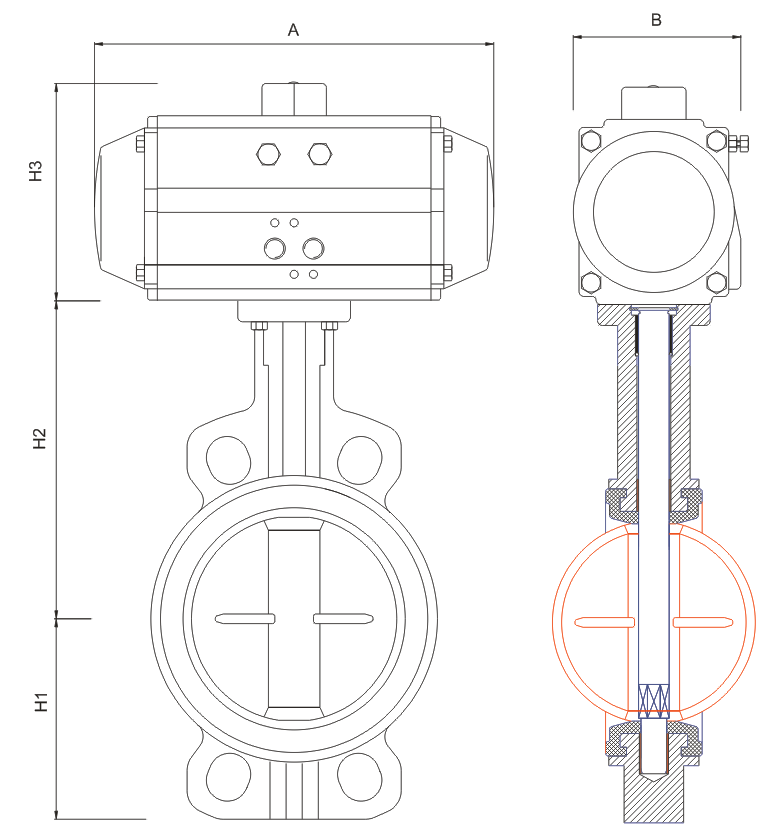 Pneumatic butterfly valve with compressed air powered (normally gas supply pressure is 0.4 ~ 0.6 MPa), through mechanical transmission piston rack and pinion,
To drive the valve shaft and valve plate of 0-90 ° rotating namely open valve closed.
Using new series GT type pneumatic actuators, double acting and single acting (spring reset), gear transmission, safe and reliable;
Large diameter valve adopts series AW pneumatic actuator fork type transmission, reasonable structure, large output torque, a double-acting and single acting
1, pneumatic butterfly valve gear type double piston, output torque, small volume.
2, selection of cylinder aluminum alloy material, light weight, good appearance.
3, can be installed on the top and bottom manual operating mechanism.
4, the rack type connection adjustable opening Angle, rated flow.
5, optional electric butterfly valve actuators signal feedback instructions in order to realize automation and all kinds of accessories.
6, IS05211 standard connection provides convenience for the installation of the product replacement.
7, in the middle of the adjusting screw can make standard products at 0 ° and 90 ° with a adjustable range of plus or minus 4 °. Ensure the synchronization precision with the valve.
Main accessories:
(electromagnetic valve, pneumatic butterfly valve accessories mainly include: locator, pressurization valve, valve, pressure reducing valve, filter, oil mist device, the position feedback device, the clutch type hand operation.
| | | | | | |
| --- | --- | --- | --- | --- | --- |
| 规格型号 | H1 | H2 | H3 | A | B |
| DN50 | 65 | 143 | 102 | 153 | 81 |
| DN65 | 71 | 155 | 102 | 153 | 81 |
| DN80 | 77 | 162 | 118 | 203 | 92 |
| DN100 | 107 | 181 | 134 | 238 | 105 |
| DN125 | 122 | 197 | 148 | 258 | 119 |
| DN150 | 150 | 210 | 148 | 258 | 119 |
| DN200 | 165 | 240 | 168 | 332 | 148 |
| DN250 | 201 | 286 | 205 | 395 | 167 |
| DN300 | 234 | 309 | 225 | 425 | 182 |
| DN350 | 302 | 309 | 242 | 528 | 220 |
| DN400 | 335 | 361 | 280 | 616 | 262 |
| DN450 | 363 | 393 | 378 | 728 | 330 |
| DN500 | 398 | 427 | 378 | 728 | 330 |
| DN600 | 457 | 492 | 462 | 876 | 406 |