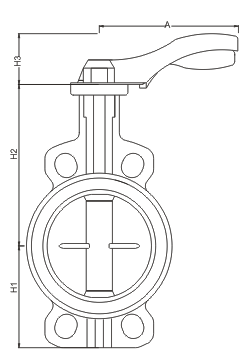 Wenzhou ball valve co., LTD. Of the soft sealing butterfly valve to the clamp of the midline, with overall straight shaft design and without pin in the key parts of the valve shaft in special prevent jammed self-lubricating bearing. This valve is novel, the price is compact, 90 ° rotary switch easily, reliable sealing performance, long service life. Offers a variety of sealing material, can be satisfied with the different working conditions. Is widely used in water treatment, power plant, water plant, paper making, chemical industry, water supply and drainage system, municipal engineering and other engineering all kinds of fluid control technology.
Product features:
1: the butterfly valve choose wear-resisting soft back of a chair seat, valve plate and valve spindle is the whole direct axis pin type, convenient maintenance change.
2: the valve plate adopts frame structure, high strength, large flow area, small flow resistance coefficient.
3: top of the valve plate adopts the design of spherical, significantly reduce the friction of the valve plate and valve seat, realized the high pressure low torque double-sided pressure effect.
4: body selects the high performance of the lacquer that bake outdoor anticorrosive paint coating, can effectively prevent rust.
5: this valve novel structure, flexible operation, low torque, easy installation, can form a complete set of various drive way at the same time.
Execution standard:
| | |
| --- | --- |
| The project name | Using standard |
| The design and manufacture | GB12238-89 ISO/DIN10631-91 |
| The valve structure length | GB12221-89 ISO5752-88 |
| The valve connection | GB9113 ISO7005 ANSI 150B16.5 JIS B2211 |
| Valve inspection | GB/T13927-92 ISO/DIN5208-87 |
| The valve symbol | GB12220-89 ISO5209-87 |
| The valve supply requirements | GB/T12252 |
Pressure rating:
When fully closed under pressure:
6bar(230psi)-----DN40-DN600
10bar(150psi)-----DN650-DN1000
Test the maximum rating of 110% when under pressure:
18bar(260psi)-----DN40-DN600
15bar(160psi)-----DN650-DN1000
The valve body test:
The body strength to withstand maximum rating of 150%
24bar(340psi)-----DN40-DN600
15bar(220psi)-----DN650-DN1000

| | | | | |
| --- | --- | --- | --- | --- |
| 规格型号 | H1 | H2 | H3 | A |
| DN50 | 65 | 143 | 60 | 190 |
| DN65 | 71 | 155 | 60 | 190 |
| DN80 | 77 | 162 | 90 | 210 |
| DN100 | 107 | 181 | 90 | 210 |
| DN125 | 122 | 197 | 95 | 258 |
| DN150 | 150 | 210 | 95 | 258 |
| DN200(铁手柄) | 165 | 240 | 30 | 355 |